Sweet & Spicy Fried Rice w/ Shrimp & Edamame Recipe
05.22.2019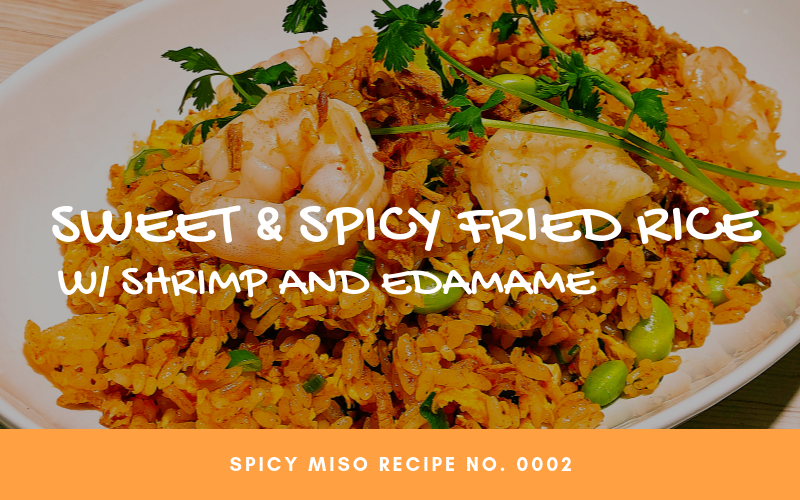 Fried Rice is one of the staple dish of Asian cuisine. In this iteration, we add some sugar and oyster sauce that gives a sweet and bold flavors to balance out the spiciness from our Spicy Miso.
【Sweet & Spicy Fred Rice w/ Shrimp & Edamame】by H.I
【Seasonings】
Salt
tsp 1/2
Sugar
tsp 1/2
Oyster Sauce
tsp 1
Fish Sauce
tsp 1/2
SSG Spicy Miso
tsp 1
Coarse Ground Black Pepper
dash
【Ingredients】
Steamed Rice
300g
Egg
2 pcs
Boiled Peeled Shrimp
5 pcs
Peeled Edamame
30g
Sesame Oil
tbsp 1/2
Cut Green Onion
to preference
How to cook
1. Mix seasonings with rice in a bowl.
2. In a separate bowl, beat and mix the eggs.
3. Heat pan with oil on high.
4. Once the pan is hot, pour eggs and scramble until it is slightly firm.
5. Quickly add rice, peeled shrimp and edamame and stir-fry.
6. Once rice is coated and golden brown, turn off fire. Add sesame oil and green onions to finish. Mix gently and serve on a plate.
---