Spicy Ginger Pork Recipe
05.28.2019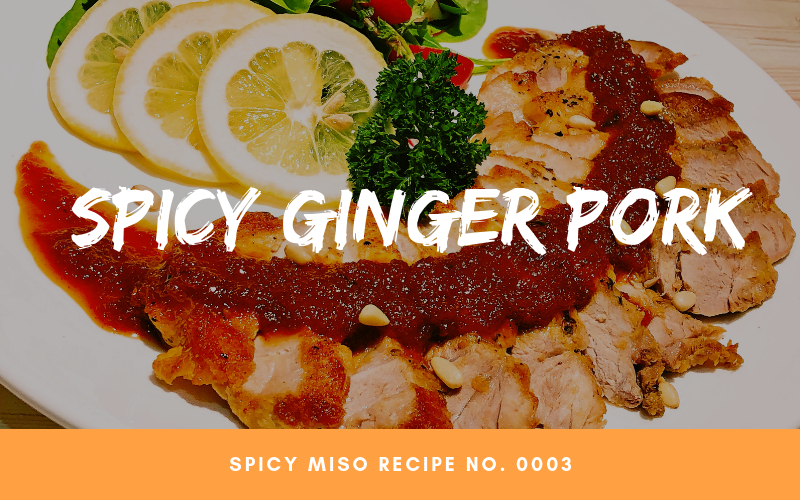 The Spicy Ginger Pork is a great main dish for any occasion. Mixing Grated Apple and Onions produces a savory sweet taste that balances with the pork, while the ginger adds some freshness and lessens the strong pork smell. We recommend stir frying or parboiling some vegetables on the side to mix with the sauce.
【Spicy Ginger Pork】by H.I
【Seasonings】
Sake
tbsp 2
Mirin(Sweet Cooking Sake)
tbsp 2
Soy Sauce
tbsp 2
SSG Spicy Miso
tsp 2
Honey
tbsp 1
Grated Onion
tbsp 1
Grated Apple
tbsp 1
Grated Ginger
tbsp 1
【Ingredients】
Pork Loin
1 pc
Side Vegetables
to preference
How to Cook
1. Mix all seasonings in a bowl or bag. Marinate the meat and let it sit for about 2 hours in the refrigerator
2. Heat pan with oil on medium heat.
3. Once pan is hot, take meat and fry it on the pan. Keep marinade later to reduce for a sauce.
4. Fry for about 1 minute or until it is well brown.
5. Cover lid and let it cook at low heat for 4 minutes.
6. Remove the lid and flip the meat. Cook on medium heat for 30 seconds or until brown.
7. Set meat aside and leave to rest.
8.  Pour marinade on to the same pan and bring to a simmer, making sure to stir and mix any juices and oils from the pork.
9.  Slice the meat and place it on a plate. Finally, pour sauce over meat and serve with your choice of vegetables on the side.
★ Please note that cooking time varies depending on your gas range. Please be mindful to not undercook or overcook the pork.
---