Hakata Ramen
We're passionately proud of our Hakata ramen, made to recreate the taste of ramen enjoyed in the stalls that line the bay of Nagahama. Our hakata ramen combines a tonkotsu (pork bone) broth with noodles and a variety of toppings, including chashu pork.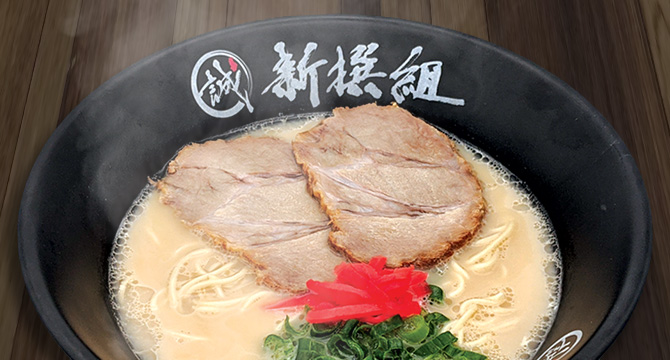 Broth
Our hakata ramen broth is made from 100% pig head, prepared slowly by hand over three days and going through multiple processes. This temperature-sensitive broth is incredibly delicate, and must remain heated all day. We prepare new batches of broth and noodles daily, in order to ensure our customers can enjoy the freshest possible ramen.
Hakata Style Thin Noodles
Our original noodles recipe are made specifically for us by a long-established noodle shop, working to come as close as possible to the thin noodles characteristic of the tonkotsu ramen enjoyed in Hakata. To prepare our noodles we use purified soft water. Enjoy the way they mingle with the broth, melt on the tongue, and slip down the throat.
You are welcome to order noodle refills; we will prepare a freshly cooked batch of noodles right away. You can choose the firmness of your noodles, so why not try firm noodles for your first serving, then a different style for your refill. This will enable you to enjoy our superlative broth and noodles to the fullest.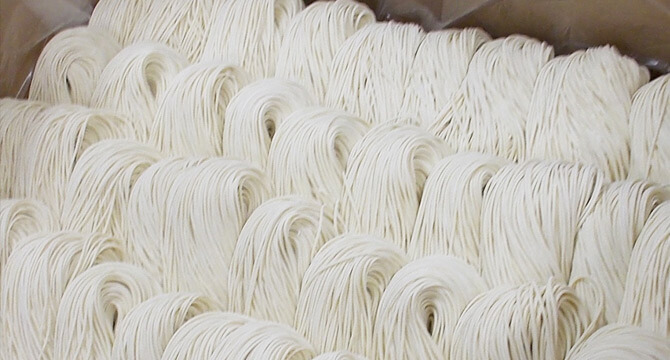 Chashu Pork
Made with carefully selected pork shoulder roast. Pork shoulder is a well-exercised cut of meat, which gives it great elasticity and fat.
Our superlative chashu is made using a recipe designed to bring out the best of the meat's natural flavor, and a long, slow cooking process in a sauce developed over countless years of research in order to pair perfectly with the broth.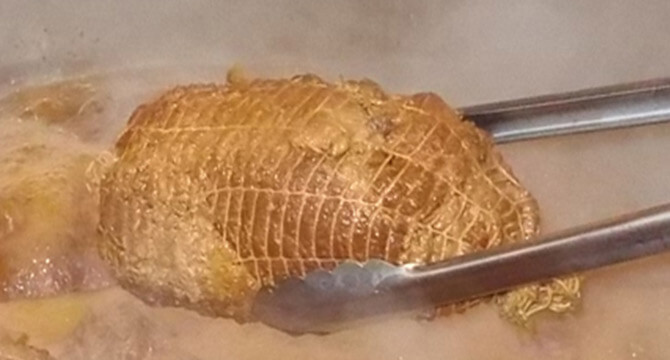 Enjoy at Home
Now you can enjoy Shin-Sen-Gumi's Signature Hakata Ramen at home! Each home-meal ramen kit comes with 2 servings and features a selection of our Ramen lineup, from our signature Hakata Ramen to Spicy Dan Dan Ramen. Each kit comes with cooking instructions so you can make each serving just like a pro. Make it your own by adding your favorite toppings at home. Order online now and pick up in store or ship it directly to your home!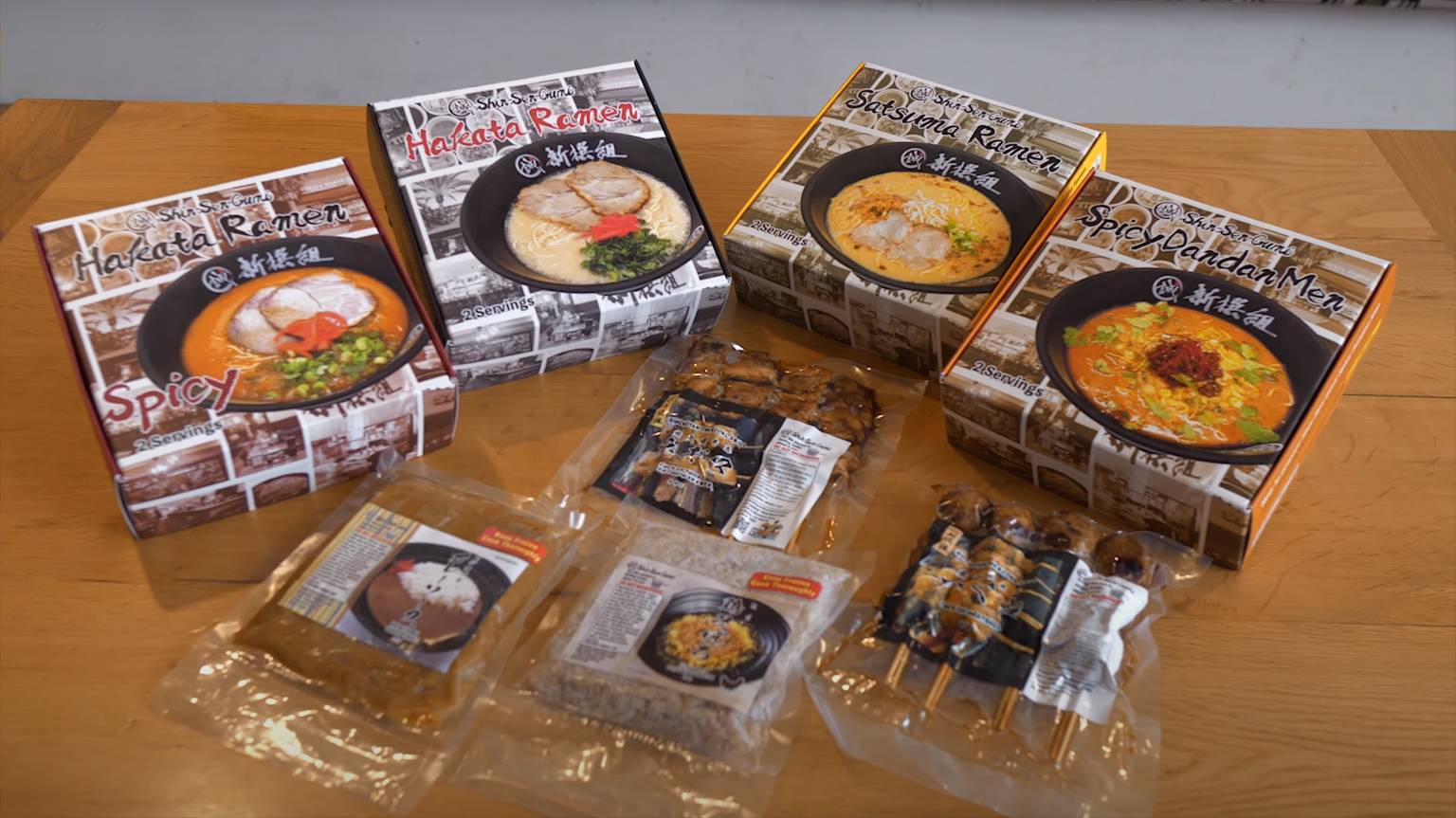 Toppings
We are tireless in researching which ingredients would best work as toppings for our ramen.
Create your own unique Shin-Sen-Gumi taste by choosing your favorites from our wide selection of toppings.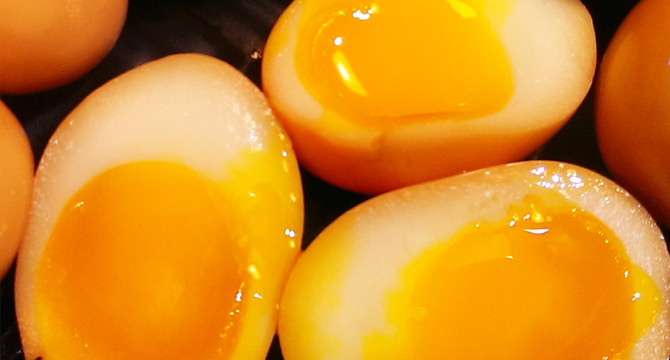 Spicy Miso
Our most popular topping. Spicy miso is an original blend produced in our central kitchen. Scallions and garlic chives give texture to this spice-infused miso, which turns the broth a brilliant red as a visual indication of how it changes the flavor of the dish. Don't doubt that this will soon have you hooked!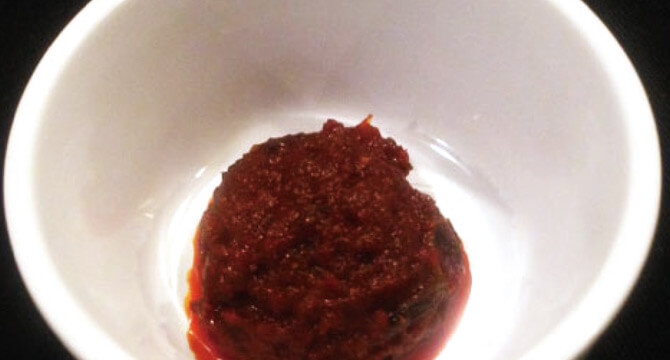 Green Butterbomb
Sat on a plate, this is a harmless looking circle of brilliant green, but as the name implies it is an intense explosion of spice. Its punchy heat comes from Thai green chili, countered by butter which brings a mellow finish. Enjoy these powerful flavors as they detonate in your mouth!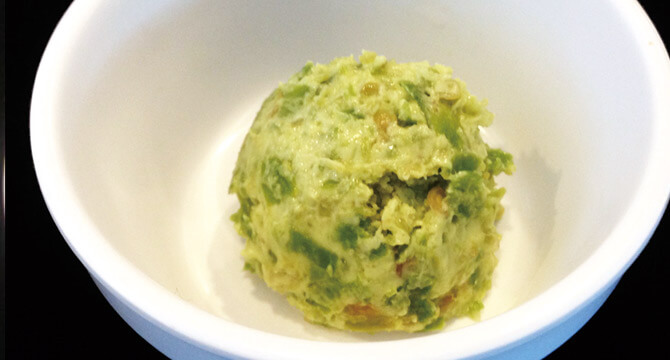 Gyoza
Gyoza are the ideal match for ramen, and in Hakata, hitokuchi (bite-sized) gyoza are the ultimate choice. We have worked hard to replicate the unmistakable flavor of authentic hitokuchi gyoza. These pair perfectly with Hakata ramen, and there is no better appetizer to enjoy, together with a crisp, cold beer, before a bowl of ramen.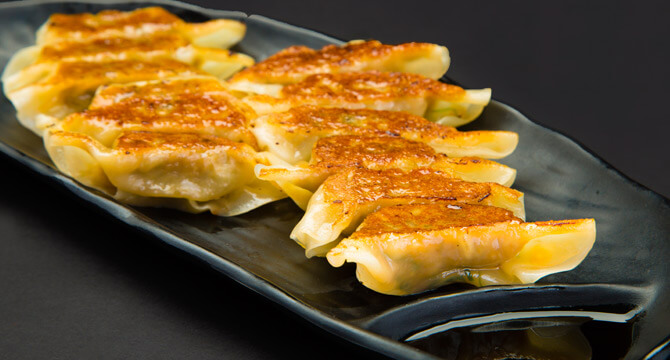 RESTAURANTS