Cold Dan Dan Udon w/ Soy Milk Dipping Soup Recipe
07.01.2019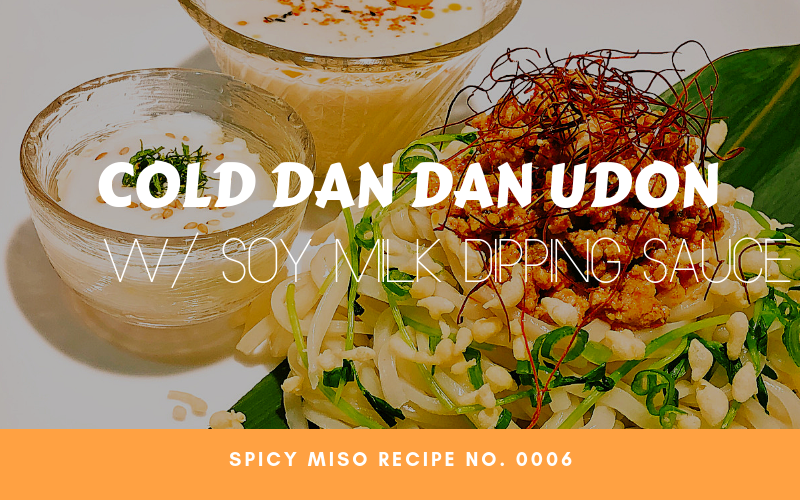 Summer is here! What better way to energize yourself with Cold Udon and a spicy savory minced meat. This dish has layers of texture, from chewy Udon, to the Niku-Miso (spicy minced chicken sauce), and the cold bean sprouts. Mix and match flavors to your preference! Enjoy the spicy savory taste of the noodles itself, or with the poached egg for a richer flavor. Don't forget to dip in the soy milk dipping soup for a creamy palate cleanser. This layers of flavor and texture will get you to devour this dish in no time!
【Cold Dan Dan Udon w/ Soy Milk Dipping Soup】by H.I.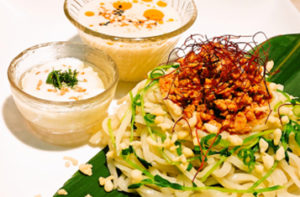 【Ingredients】
Udon Noodle
1serving
Bean Sprouts
as needed
【Niku-Miso Ingredients】
Ground Chicken
150g
Miso Paste
tbsp 1/2
Spicy Miso
tbsp 1/2
Mentsuyu (Noodle Soup Base)
tbsp 1
Sugar
tsp 1
Sesame Oil
tbsp 1
Chili Oil
tbsp 1
Grated Garlic
tbsp 1/2
【Soy Milk Dipping Soup】
Mentsuyu (Noodle Soup Base)
20g
Unsweetened Soy Milk
50g
Peanut Paste
tbsp 1
Spicy Miso
tsp 1
Chili Oil
to preference
【Toppings】
Poached Egg
1pc
Shredded Shiso Leaves
to preference
How to Cook
・Niku-Miso
1. Mix Miso Paste, Spicy Miso, Mentsuyu and Sugar in a bowl and set aside
2. Take a Pan and pour sesame oil, chili oil, and add grated garlic. Heat on high.
3. Once garlic turns golden and you can smell the garlic aroma, add ground chicken and stir-fry.
4. Add remaining seasoning from the bowl and mix well.
5. Simmer and cook for 5 minutes on low heat.
6. Remove from heat and let cool. You can serve this immediately hot or chill in the fridge depending on your preference.
・Soy Milk Dipping Soup
1. Mix all ingredients in a bowl evenly and set aside.
・Udon Noodle
1. Boil udon in a pot.
2. Add and boil bean sprouts 30 seconds before draining the water for optimal texture.
3. Wash noodles and bean sprouts with ice water and drain well.
・Cold Dan Dan Noodles
1. Take Udon and bean sprouts, and place on a plate.
2. Pour Niku-Miso over noodles.
3. Serve with poached egg on the side or on the noodles. Be sure to sprinkle shredded Shiso leaves on the egg and to serve the Soy Milk Dipping Sauce on the side.
---