Customer Service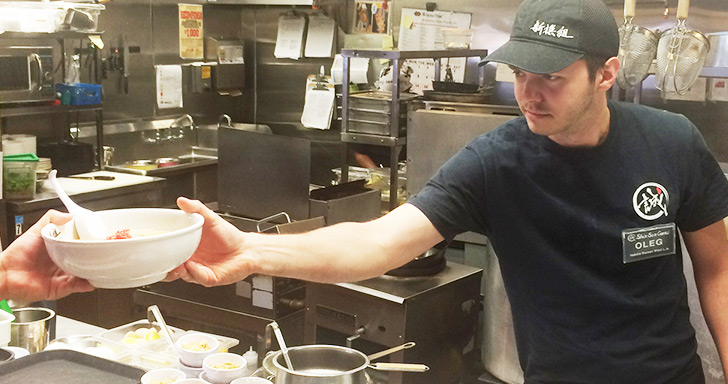 Name: O. T.
Location: Shin-Sen-Gumi Hakata Ramen – West L.A.
---
Why did you apply & How long have you been working for Shin-Sen-Gumi?
It's been a year since I started working at Shin-Sen-Gumi. After hearing so much about it, I had finally visited and had an unforgettable experience. I instantly felt the welcoming and energetic environment when I first walked in and I can say that all rumors were true about how infulencive and delicious the food was. I immediately knew that I wanted to be a part of something incredible like this, to be a part of this place.
---
Please describe your duties (job). How do you like it?
Part of my position at Shin-Sen-Gumi right now is to make the ramen before it is served. Everyday I learn something new, picking up different techniques on how to make it better. From controlling the thickness of the soup and timing the cooking of the noodles themselves—I'm challenged daily as I try to make the best ramen possible and be a part of the Shin-Sen-Gumi experience that creates happy and satisfied customers.
---
What's your future dream with Shin-Sen-Gumi?
I'm honored that I get to work at Shin-Sen-Gumi. My goal is to put all my effords into what I do and make sure that no matter what obsticales may come on my way, I stay focused and positive.
---
What do you like about Shin-Sen-Gumi?
Shin-Sen-Gumi is more than just a place to work. Part of the philosophy that flows through everything we do, instilled by our founder: Kyokucho (Chief Boss) Mr. Mitsuyasu Shigeta, is that we all work hard together and create new roads of growth for each other. As we collectively evolve, we ultimately learn more about ourselves, each other, and strengthen the organization by passing on our inherited knowledge to new team members, we're creating new roads of growth.
---