Office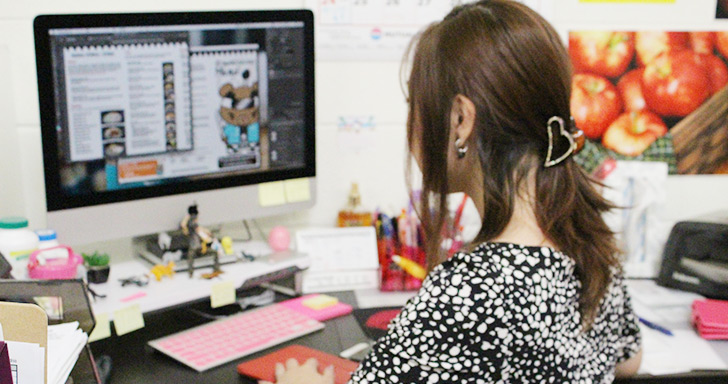 Name: C. M.
Location: Shin-Sen-Gumi Headquarters
---
Why did you apply & How long have you been working for Shin-Sen-Gumi?
June, 2014, my friend who was working at SSG group told me that the SSG office was looking for an admin staff. I applied for the job but I had used only Mac and even didn't know how to shut down Windows (I thought I could learn how to use Windows after hiring). I was rejected since they were looking for someone who could hit the ground running. But I brought my design & illustration portfolio for the interview, so I was employed as the in house graphic designer. I worked as a part-timer for the first half year, and became a full-time in Dec, 2014.
---
Please describe your duties (job). How do you like it?
Graphic design such as menu and pop, management of SNS and web page, and management of the schedule for advertising. Also I made the characters of SSG, Kaeda-Men & Shin-Sen-Guma.
I've loved drawing & designing since I was little, so I have fun with my job very much. I feel happy to make the stores and customers happy with my work.

---
What's your future dream with Shin-Sen-Gumi?
Now I'm the only person in this position, I'd like to make a team with a marketing specialist. I want to keep learning effective advertising and refined design. And also I wanna be a fluent English speaker and negotiate with Non-Japanese companies by myself in the future!
---
What do you like about Shin-Sen-Gumi?
Shin-Sen-Gumi pays attention to create a better work environment for its employees. I really feel that we get good care from this company.
Also I like that Shin-Sen-Gumi (especially Kyokucho!) loves and respects all customers. That's why so many customers love Shin-Sen-Gumi's taste and atmosphere for such a long time.
---