Cold Noodles w/ Soy & Sesame Dressing
12.28.2020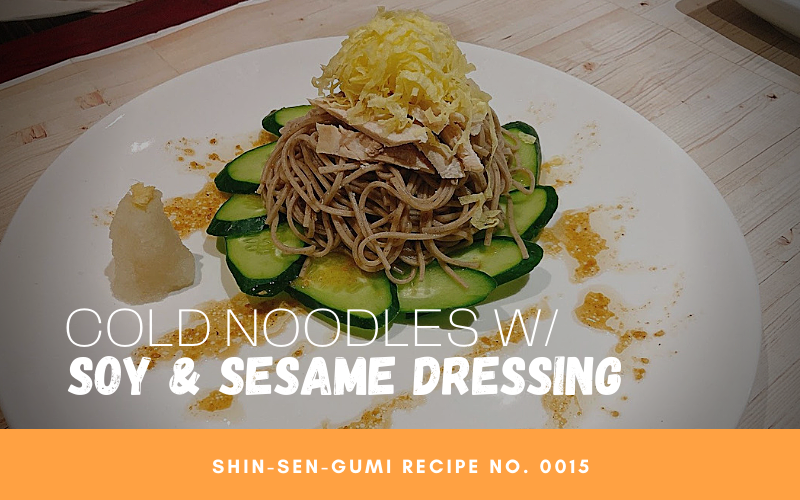 Cold Noodles in the middle of winter you say?! In Japan and some Asian countries, there is a practice of Shime, or closing of a meal. In Japan after a night of dining at an Izakaya and drinking, people typically order a bowl of rice, Ramen, Udon or Soba, both cold or hot. This cold soba in our soy & sesame dressing sauce is a great way to end a meal, with a cool and refreshing taste to cleanse the palate and end a meal!
【Cold Noodles w/ Soy & Sesame Dressing】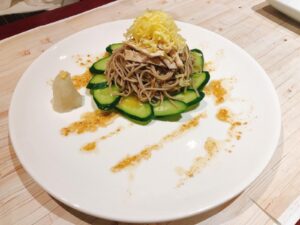 How to Make
【Shredded Egg Strips】
Whisk egg and mix well.
Strain eggs to ensure eggs are smooth.
Apply oil to pan by adding oil to a paper towel and spread over pan.
On low heat, pour and distribute egg evenly on the fry pan.
Once the egg sets to a crepe like texture flip and cook other side for 5-10 seconds.
Remove to plate to cool. Roll egg and cut into thin strips.
【Cold Noodles w/ Soy & Sesame Dressing】
Boil chicken breast.
Thinly slice the cucumber and arrange on a plate.
Boil soba noodles to preferred texture.
Once boiled, cool the noodles in ice water.
On the plate, place the noodles and the eggs.
Add the dressing over noodles and enjoy!
---