Temporary Hours & Information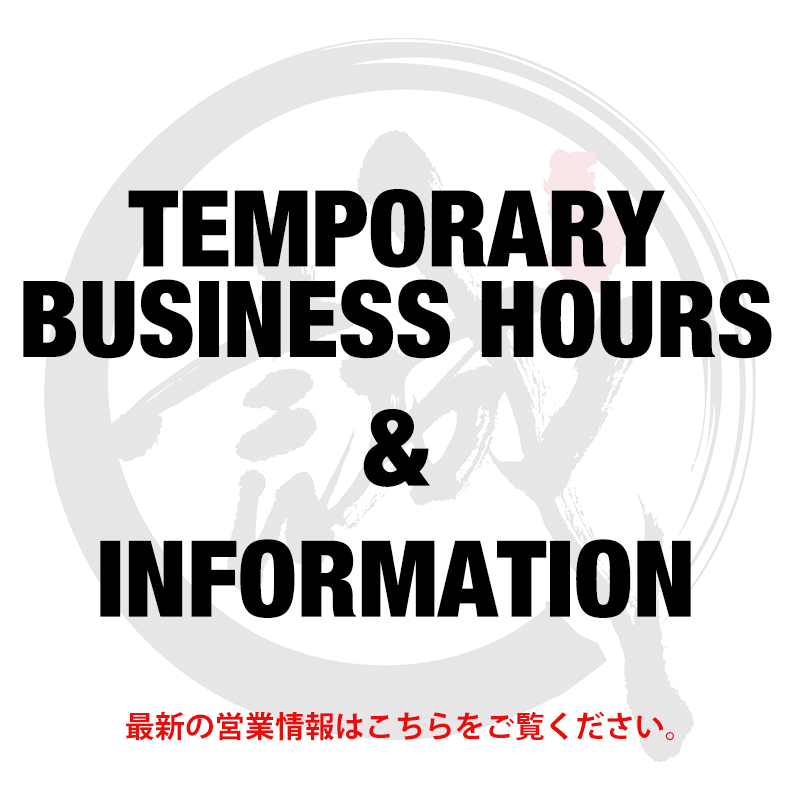 Dear Customers,
In light of the recent announcement by the Governor of California, we will stop dine-in service from July 1st, 2020.
We will still continue to serve takeout and delivery.
We thank you for your continued support and wish you and your family remain safe during these times.
Shin-Sen-Gumi Restaurant Group
[Mon-Fri] 11:30am-2:00pm / 6:00pm-11:00pm
[Sat-Sun] 12:00pm-11:00pm
★Lunch Outside Dining Available
★Dinner Inside & Outside Dining Available
Delivery : Postmates UberEats Grubhub Doordash
Pickup Pre-Order : ChowNow
[Mon-Fri] 11:00am -3:00pm / 6:00pm-11:00pm (Last Order)
[Sat & Sun] 11:00am-11:00pm (Last Order)
★Inside & Outside Dining Available
Delivery : Postmates UberEats Grubhub Doordash
Pickup Pre-Order : Toast
AYCE Shabu-Shabu ONLY
[Everyday] 5:00pm-9:30pm (last call)
★Inside Dining Only
Robata & Yakitori Fountain Valley
[Everyday] 5:00pm~ 9:45pm
★Inside Dining Available
Delivery : Postmates UberEats Grubhub Doordash
Pickup Pre-Order : ChowNow (Dinner Only)
[Mon-Fri] 11:00am~3:00pm / 5:00pm~10:00pm
[Sat & Sun] 11:00am~10:00pm
★Inside Dining Available
Delivery : Postmates UberEats  Grubhub Doordash
Pickup Pre-Order : ChowNow
[Mon-Fri] 11:00am-3:00pm / 6:00pm-11:00pm
[Sat-Sun] 11:00am-11:00pm
★Inside & Outside Dining Available
Delivery : Postmates UberEats  Grubhub Doordash
Pickup Pre-Order : ChowNow
7 Days Open 11:00am – 10:00pm
★Inside & Outside Dining Available
Delivery : Postmates UberEats Grubhub Doordash
Pickup Pre-Order : ChowNow
[Mon-Fri] 11:00am – 3:00pm / 5:00pm – 10:00pm
[Sat&Sun] 11:00am – 10:00pm
★Inside & Outside Dining Available
Delivery : Postmates UberEats Grubhub Doordash Caviar
Pickup Pre-Order : ChowNow
[Mon-Thu] 11:00am-3:00pm / 5:00pm-10:00pm
[Fri] 11:00am-3:00pm / 5:00pm-11:00pm
[Sat] 11:00am-11:00pm
[Sun] 11:00am-10:00pm
★Inside & Outside Dining Available
Pickup Pre-Order : ChowNow
[Everyday] 10:00am -10:00pm
★Inside & Outside Dining Available
Delivery : Postmates UberEats Grubhub Doordash
Pickup Pre-Order : ChowNow
[Sun-Wed] 11:00am-11:00pm
[Thu-Sat] 11:00am-12:00am
Delivery : Postmates UberEats Grubhub Doordash Caviar
[Mon-Fri] 11:00am-3:00pm / 6:00pm-10:45pm (Last Call)
[Sat-Sun] 11:00am-10:45pm (Last Call)
★Inside & Outside Dining Available
Delivery : Postmates UberEats Grubhub Doordash
Pickup Pre-Order : ChowNow
[Sun-Thu] 11:00am – 8:00pm
[Fri & Sat] 11:00am – 9:00pm
★Outside Dining Available
Delivery : Postmates UberEats Grubhub Doordash
Pickup Pre-Order : Toast
---