White Fish in Mushroom Sauce
01.01.2021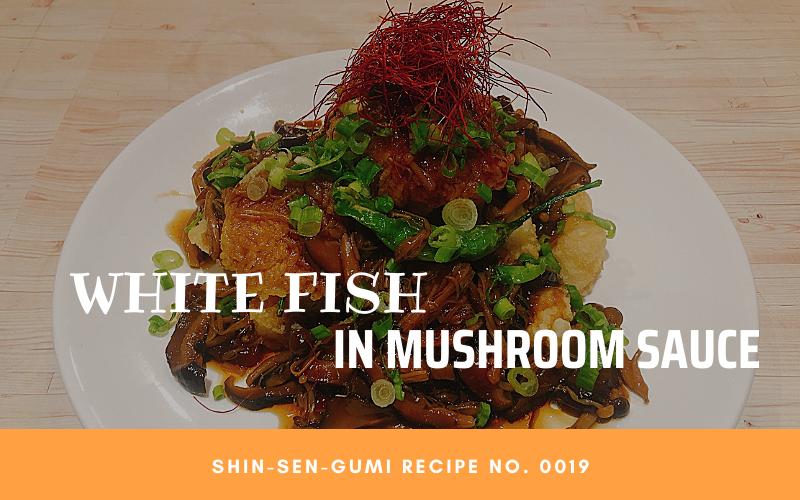 Happy New Year, and saving the best for last, this recipe is an absolute delicacy! Did we forget to mention that this recipe involves pouring the savory white fish and sauce over crispy rice? That's right, using our already umami packed mushroom sauce with any white fish already makes it to a great savory fish dish, perfect for any meal, even better with some crispy texture.
【White Fish in Mushroom Sauce】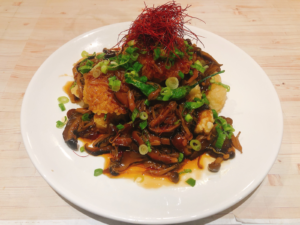 | | |
| --- | --- |
| 【Ingredients】 | |
| White Fish of your Choice | 150g |
| Shishito Pepper | 2pcs |
| Sliced Green Onions | 1 stalk |
| Crispy Rice | 35g |
| Rice | 35g |
| Oil | 10cc |
| Shin-Sen-Gumi Mushroom Sauce | 100cc |
| Potato Starch | 20g |
| Water | 50cc |
| Salt | A Pinch |
How to Make
【Crispy Rice】
Heat a small pan or pot with oil. Add cooked rice.
Heat for a few minutes or until crisp, being careful not to burn the rice.
【White Fish in Mushroom Sauce】
Slice the fish to bite size pieces and lightly coat with a pinch of salt.
Let fish sit for 10-15 mins and pat dry.
Mix water with potato starch to a slurry. Use 3/4 to coat fish and mix well. Keep the remaining slurry for sauce.
Fry fish in a hot pan with oil for 5 minutes.
In a separate pan, fry the burnt rice for 5 min and the Shishito pepper for about 30 seconds.
In a saucepan boil the mushroom sauce. Once it comes to a boil add the cornstarch and water slurry to thicken the sauce.
Plate starting with crispy rice, Shishito pepper and fried fish. Pour mushroom sauce and enjoy.
---