Weekend Lunch Shabu-Shabu AYCE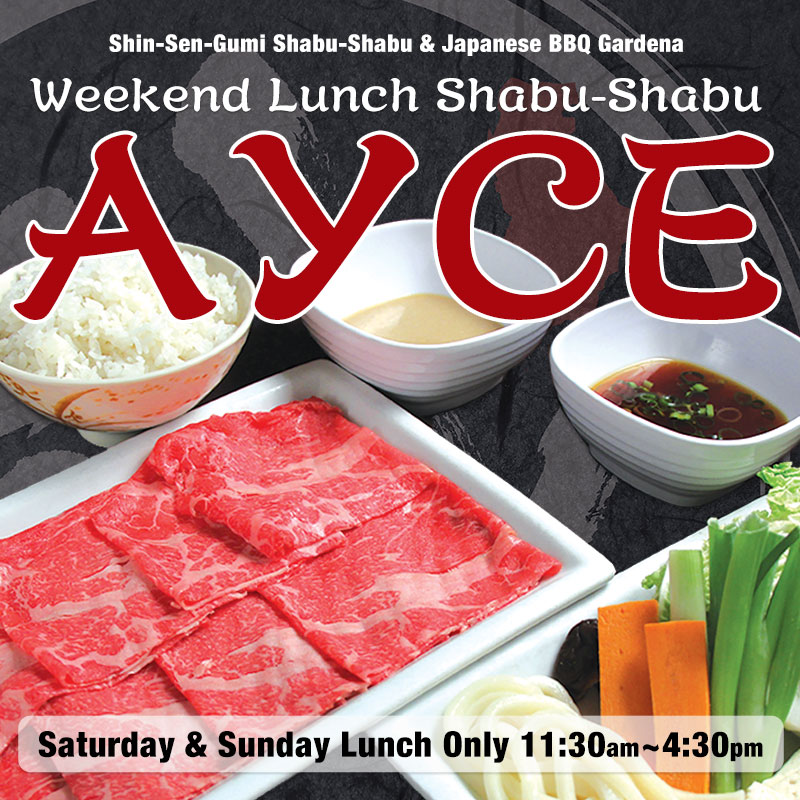 Shin-Sen-Gumi Shabu-Shabu Gardena holds
Weekend Lunch Shabu-Shabu All You Can Eat Special!!
Saturday & Sunday Lunch Only
11:30am~4:30pm
Adult 25 / Kids Under 4ft 12 / Kids Under 3ft FREE (90min)
-Unlimited Meat (1/2 Size Available!)
・Angus Beef ・100% Kurobuta Pork ・Half & Half
-Unlimited Vegetable Set
-Unlimited White Rice
-Unlimited Ponzu & Sesame Sauce (Please DO NOT put the sauce in the hot-pot)
★All Meat/Vegetable Must Be Consumed Any leftover additional meat and/or vegetable will result in an automatic charge of $9.00 (regular additional beef price per plate) and/or $3.50 (regular additional vegetable per plate).
★No Sharing Meat Sharing meat will result in an automatic charge of $25 per person(the price of AYCE for adult).
★Leftovers may NOT be taken home
炭焼き・しゃぶしゃぶダイニング ガーデナ店
Shin-Sen-Gumi Sumiyaki (Japanese BBQ) & Shabu-Shabu Dining
1695 W. Artesia Blvd. Gardena, CA 90248
☎310-532-0728
Mon-Fri Lunch 11:30am~2pm / Dinner 6pm~11pm
Sat & Sun All Day 11:30am~11pm
---