Annual Extra Noodle Challenge!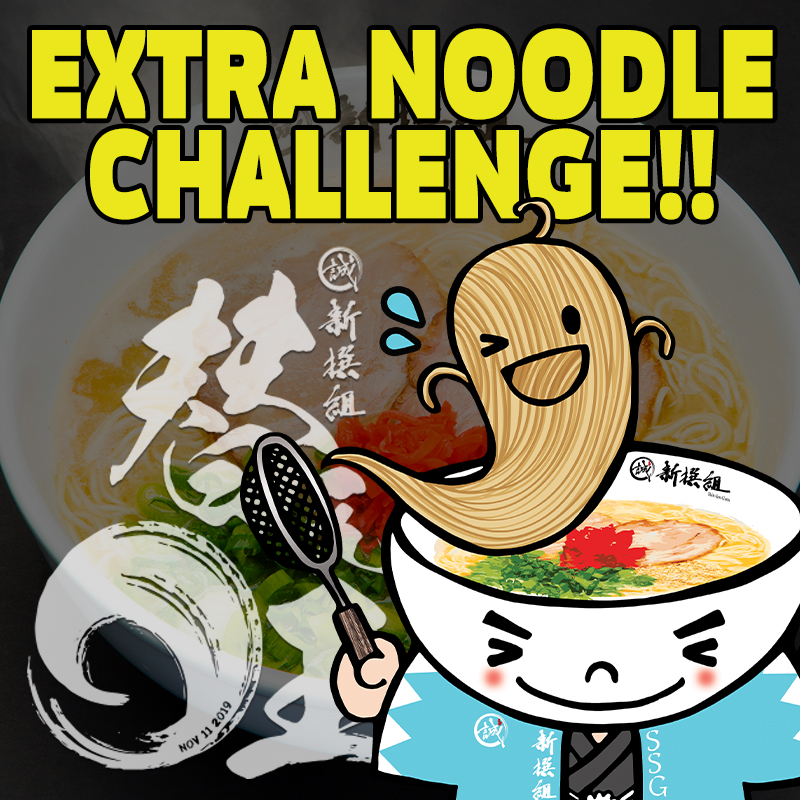 Date
Veteran's Day, 11//11(Mon), 2019
Time
11:00am~3:00pm Only
Location

Shin-Sen-Gumi Hakata Ramen – Gardena

Shin-Sen-Gumi Hakata Ramen – Fountain Valley

Shin-Sen-Gumi Hakata Ramen & Udon – Irvine

Shin-Sen-Gumi Hakata Ramen – Rosemead

Shin-Sen-Gumi Hakata Ramen – Little Tokyo

Shin-Sen-Gumi Hakata Ramen – West L.A.

Details

Hey guys, did you know that November 11th, is "Noodle Day" in Japan?!

To celebrate this special day, we are holding our annual "Extra Noodle Challenge" on Monday, November 11th, instead of Thanksgiving day at 6 Shin-Sen-Gumi Hakata Ramen Locations: Gardena, Fountain Valley, Rosemead, Little Tokyo, West L.A., and Irvine!!!

Entry Fee: $14 (comes with 1 Hakata Ramen, 1 Extra Soup, and Unlimited Extra-Noodles within duration)
Duration: 30 min.

Prize: Shin-Sen-Gumi Extra Noodle Challenger T-shirt 2019 Edition (NOT SOLD IN STORES!) will be given out for those who eat 5 or more extra servings and 4 or more for the ladies. *The first bowl of Hakata Ramen is not counted. We will only count the number of extra servings consumed.

Grand Prize: The prestigious Extra Noodle FREE-PASS will be given to the Men's Champion & the Ladies Champion of each of the 6 locations! Only Champions will be served UNLIMITED FREE EXTRA NOODLES anytime at any SSG Hakata Ramen Locations with the FREE-PASS (valid after the event).

★The champion is the one who eats the most Extra-Noodles within 30 minutes. It starts when you receive your ramen. (The first bowl is not counted. We will count only the number of extra servings)
★Challenger may not leave the seat during the challenge.
★If you are unable to finish the last set of noodles before the time limit, it does not count as part of the record.
★Finishing the soup is unnecessary.
★Extra Topping, Drink, and Side Menu will be charged as usual.
★If there is a tie, the winner will be selected by fastest time.

The best record so far is Mens 15 / Ladies 11!!!

We are waiting for your challenge!

★★★Since the "2019 Extra Noodle Challenge" Special Edition T-shirt is only awarded to challengers who consume 4 (5 for men) or more bowls of ramen, we will be collecting the number of participants who achieved the minimum requirements, and order the T-shirts after the challenge is completed. We will be handing out claim ticket for participants that complete the challenge and have you fill it out including your T-shirts size. You will be able to pick up your T-shirts with the ticket at the store you took the Challenge. We apologize for the inconvenience and thank you for your understanding!!
---