Special Udon for Cold-Weather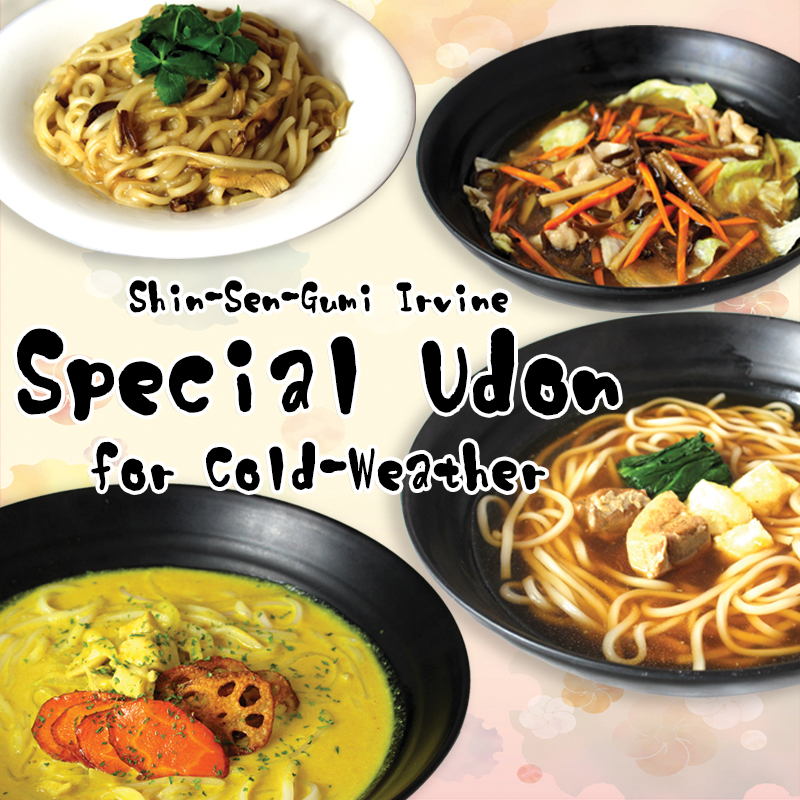 Please try our Limited Time Udon Menu!
Available until 3/31!!
Chicken Curry Cream Udon
Brighten your day with our delicious chicken curry cream and signature udon noodles, topped with roasted carrots, Lotus root garnished with parsley from the heavens.
Glazed Udon w/Braised Pork Belly and Rice Cake
We begin with veggie stock and our signature Shin-Sen-Gumi noodles add Braised pork belly ,spinach and crunchy Mochi.
Glazed Ponzu Udon
A citrus veggie stock, with a melody of vegetables and kikurage mushrooms and pork belly mix with our Shin-Sen-Gumi noodles.
Miso Soy Milk Mushroom Udon
Olive oil sautéed Kinoko Mushroom and Onion mix, Tossed in a pleasantly sweet miso cream with our signature Shin-Sen-Gumi udon noodles Garnished with Mitsuba (Japanese wild parsley).
Shin-Sen-Gumi Hakata Ramen & Udon – Irvine
Woodbury Town Center 6404 Irvine Blvd, Irvine, CA 92620
☎︎949-596-7036
Mon-Fri Lunch 11am~3pm / Dinner 6pm~11pm
Sat & Sun All Day 11am~11pm
---