Limited Time Summer Udon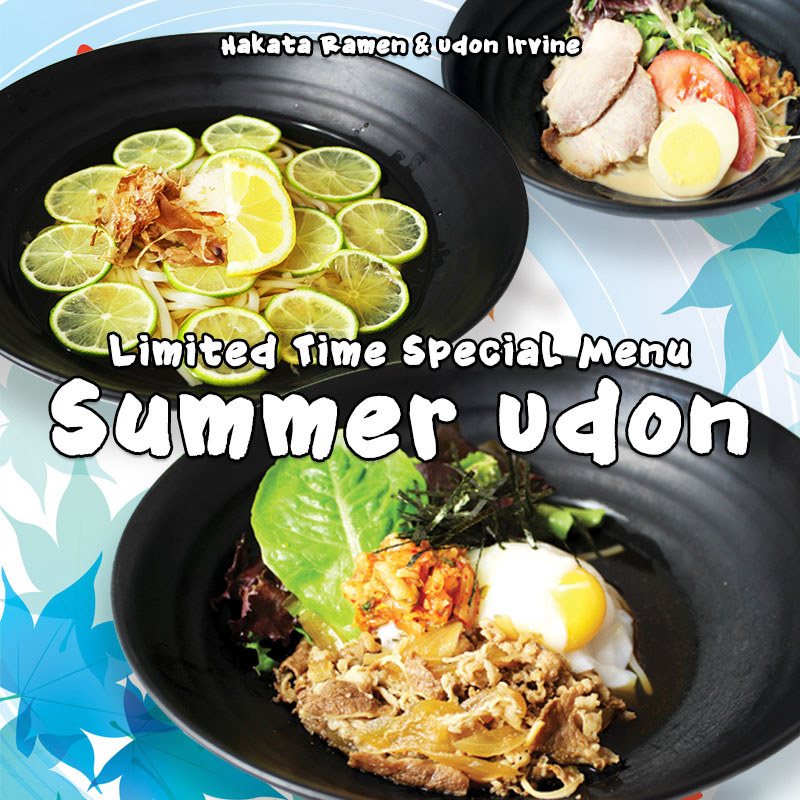 Please try Limited Time Special Udon Menu!
Cold Beef Udon
A chilled poached egg, thinly sliced beef and onions , laid upon a bed of fresh spring mix and cold udon noodles, topped with nori (shredded seaweed), and diced kimchi.
Citrus Udon
Chilled udon noodles, in shiro dashi soup, topped with thinly sliced limes, garnished with bonito and a lemon slice to bring this refreshing plate together for the summer heat.
Udon Salad
Chashu (our signature pork slices), freshly sliced tomatoes, kaiware (radish root) diced kimchi, fresh spring mix and a flavored egg sitting a top udon noodles in our special sesame dressing.
Glazed Udon w/Braised Pork Belly
We begin with veggie stock and our signature Shin-Sen-Gumi udon noodles add braised pork belly, spinach and crunchy mochi.
Nabeyaki Udon
A traditional well balanced Japanese broth with a variety of healthy immune boosting vegetables, revitalize your body with our seared fresh water eel, chicken, poached egg and tempura shrimp a pleasantly satisfying meal.
Ground Chicken Udon
Special Japanese cherry tomato sofrito, with crispy bacon by its side with some fresh spring mix laid upon udon noodles.
Champon Udon
A refreshingly imperial melange of vegetables, seafood, and thinly sliced pork belly, with a hint of garlic oil in our very own ramen broth.
Miso Soy Udon
Olive oil sautéed kinoko mushroom and onion mix, tossed in a pleasantly sweet miso cream with our signature Shin-Sen-Gumi udon noodles garnished with mitsuba (Japanese wild parsley).
博多ラーメン&うどん アーバイン店
Shin-Sen-Gumi Hakata Ramen & Udon – Irvine
Woodbury Town Center 6404 Irvine Blvd, Irvine, CA 92620
☎︎949-596-7036
Mon-Fri Lunch 11am~3pm / Dinner 6pm~11pm
Sat & Sun All Day 11am~11pm
---