Hakata Ramen Fountain Valley 17th Anniversary Sale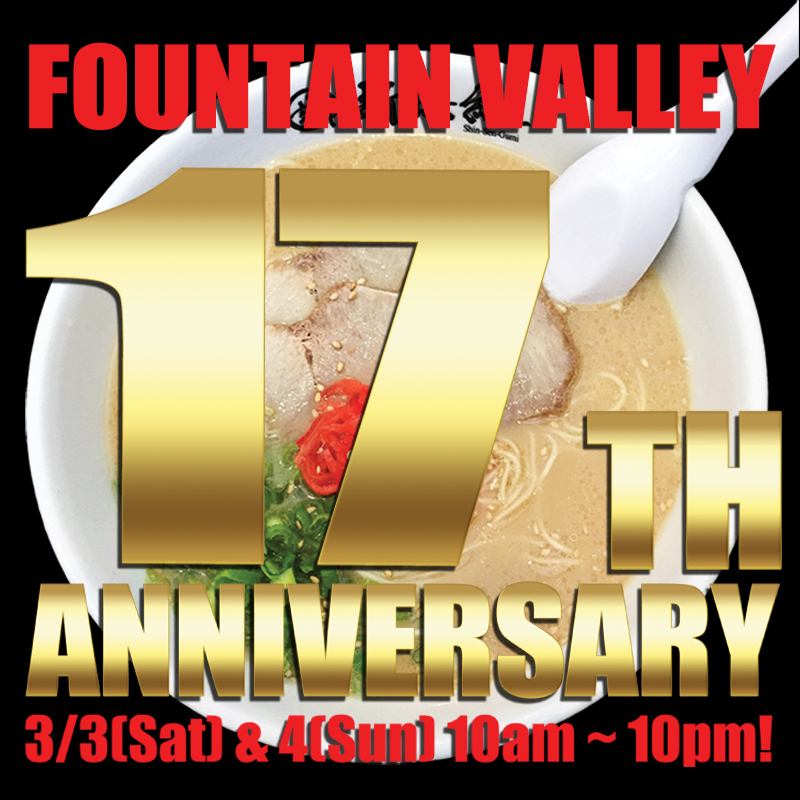 Date
3/3(Sat) & 4(Sun), 2018
Time
10:00am~10:00pm
Location

Shin-Sen-Gumi Hakata Ramen – Fountain Valley

Details

This is SSG Hakata Ramen Fountain Valley's 17th-year anniversary event!!!

We've come this far because of your loyalty and support so we're giving it back to you on March 3rd (Sat) & 4th (Sun), 2018.

Our authentic Hakata Ramen will be $4+tax (reg. $8.50+tax) for those days!
Of course, you can order extra toppings and side menu (Sorry, we won't be able to serve some regular menu items during this event. And extra toppings are not included in this special price. We'll charge extra for the toppings as usual).

Also you can order Kaedama (extra noodle), but we recommend you to order a new bowl instead of Kaedama during this event since a new bowl is only $4 and it's hot, fresh and you can eat more Chashu 🙂 🙂

Limited 1000 Bowls per day. But no worries! 1000 bowls are huuuuge amount! It won't be gone too soon.
We open at 10:00am to 10:00pm.

Please mark your calendar and we're excited to serve you our bowl of Ramen noodle for this special price!
---