DINNER SPECIAL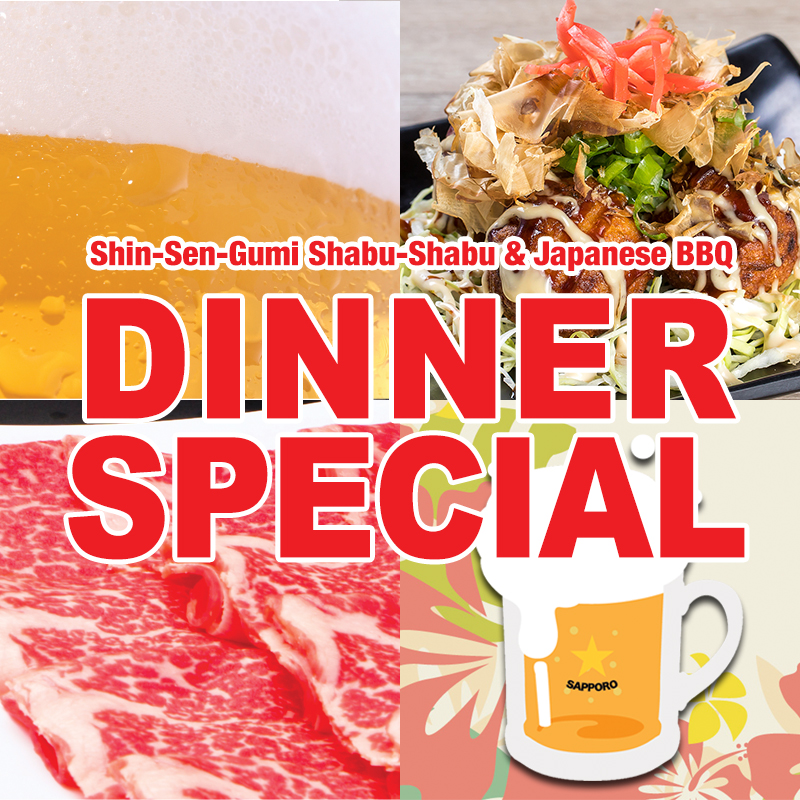 Shin-Sen-Gumi Shabu-Shabu & Japanese BBQ has started DINNER SPECIALS!
★1st & 3rd Monday 6pm-11pm
Sapporo Draft Beer (L) $3.00(Reg. $5.25)
★2nd & 4th Monday 6pm-11pm
$3.00 Tapas Menu 
★Every Tuesday 6pm-11pm
All kinds of Shabu-Shabu 20%more meat!!
★Every Friday 6pm-11pm
Wear your Aloha Shirt and your First Sapporo Pitcher will be $5.00 (Reg. $18.00)
And Special Hawaiian Tapas available!!
炭焼き・しゃぶしゃぶダイニング ガーデナ店
Shin-Sen-Gumi Sumiyaki (Japanese BBQ) & Shabu-Shabu Dining
1695 W. Artesia Blvd. Gardena, CA 90248
☎310-532-0728
Mon-Fri Lunch 11:30am~2pm / Dinner 6pm~11pm
Sat & Sun All Day 11:30am~11pm
---